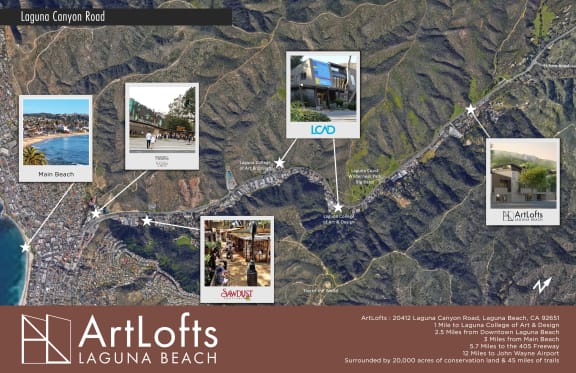 The City of Laguna Beach has been a cultural center and destination for over 110 years with several annual arts festivals. With a beautiful coastline, canyons and Mediterranean climate, Laguna Beach attracts over 3 million visitors annually.
ArtLofts Laguna Beach is nestled in Laguna Canyon, just 3 miles from the beach, surrounded by 20,000 acres of conservation land. Just 2.5 miles from downtown, the city and festivals are within bicycling riding distance or a quick bus ride. Just out the door is over 45 miles of hiking and biking trails that have the most beautiful vistas of California coastline and mountain canyons.

From ArtLofts it is 5.7 miles to the 405 and easy access to all of Orange County. ArtLofts is less than 12 miles from John Wayne airport and just 1.0 mile from Laguna College of Art and Design a nationally and regionally accredited, non-profit, private, visual arts college with seven undergraduate programs, graduate degree programs and a Post-Baccalaureate program.

ArtLofts is immersed in the art industry of Laguna Beach that offers 2,500 full-time jobs, and $95.4 million in economic activity for the area. The nearby Sawdust Festival is a wildly popular annual gathering for professional artists to display their work and sell their pieces. The annual Pageant of the Masters is an annual production that is largely produced by volunteers and local artists where famous works of art are brought to life on stage by actors accompanied by a full orchestra. The Festival of the Arts Show features works from sale from over 100 juried Orange County artists. From painting, glass, ceramics, photography and more, the Festival showcases a variety of medium and artwork styles for avid collectors and festival-goers to browse and purchase directly from the artists.

Beyond the Festivals, Laguna Beach is a year round cultural hub and is home to the Laguna Playhouse, Laguna Art Museum and more than 100 art galleries.