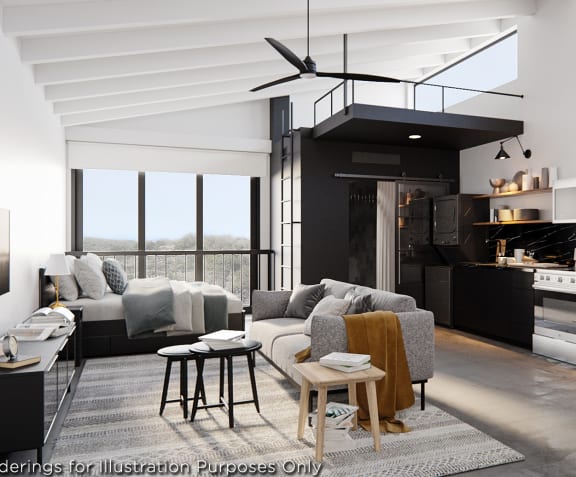 Welcome to ArtLofts
ArtLofts Laguna Beach is a brand new, purpose-built housing community serving local artists and students attending Laguna College of Art and Design (LCAD) in Laguna Beach, CA. The 66-bed, artist focused property is located just 1.0 mile from LCAD and promotes imagination, creativity, prosperity and collaboration while providing sustainable, functional and stylish work/live studios.
ArtLofts Laguna Beach is a one-of-a-kind artist and LCAD student work/live community nestled in scenic Laguna Canyon that offers a mix of 28 single and two-story studios connected by open air breezeways and communal work studios that encourages collaboration among resident artists and students.
Designed and built to be in tune with the canyon setting the signature saw tooth south pitched roofs supports the solar array that creates the dynamic vaulted ceilings that foster creativity and comfort with natural ambient lighting from the large clerestory windows.
The ArtLofts facility is elevated to provide unobstructed views and ample covered parking. ArtLofts also feature high tech remote entry, large sliding doors that bring the outside in and European style flat front cabinets combined with GE appliances. The property is anchored by an art gallery and 9 exterior exhibition spaces and multi-media digital lounge.
One resident per household is required to be a working artists or current students in good standing and must be approved by the City of Laguna Beach Arts Commission through the review of applications and portfolios. All mediums of visual and performing arts qualify which help to promote a diverse amalgam of artistic collaboration.
Creative Spaces
Designed For You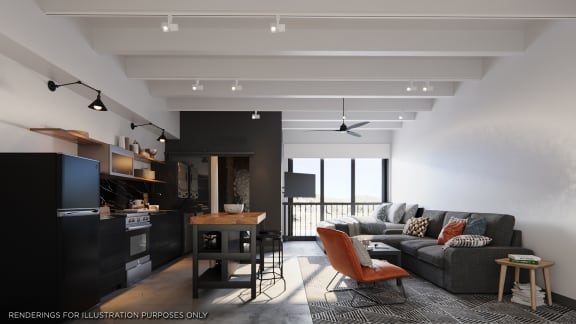 BEAUTIFULLY FINISHED
Form and function meet in a singular vision. This new construction in the heart of Laguna Canyon combines industrial aesthetics with high end finishes for an experience that is both refined and wild.

A LIFESTYLE BEYOND COMPARE
One destination that perfectly blends the best of art, entertainment and nature. Featuring world famous waterfront and panoramic hiking trails for the best the outdoors have to offer. Contrasted by equally famous shopping, dining and cultural festivals for a true taste of the good life.
EMBRACE YOUR BEST LIFE
ArtLofts is about community, designed by artists for artists. Offering 28 units for lease that share 9 communal workspaces, a digital media lounge, communal bbq, gallery, and exhibition space.

Reducing multiple rents by combining not only Work and Live for an artist and student but also providing on site exhibition space reduces expenses and nurtures a small collective of artists and students that may otherwise be priced out of the costly and supply constrained Laguna Beach market creating a unique cultural experience unmatched anywhere.

ArtLofts will be the newest stop on the LCAD shuttle route connecting the property to the South Campus, Main Campus, Big Bend, and Club Laguna. This is a free service only offered to students and you are strongly encouraged to use it when traveling between these destinations. The shuttle stops approximately every 45 minutes and runs from 8am to 10:30pm Monday - Friday.